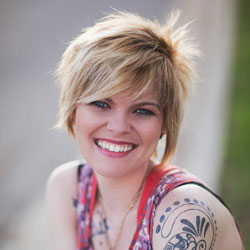 Kayla
Senior Stylist
Like many little girls, I played with dolls as a child. But unlike many little girls, I was particularly obsessed with their hair. If I wasn't braiding, brushing or styling it, I was cutting it. As I got older I moved on to styling my friends' hair, and even doing some cutting and coloring in high school. (Though results were not guaranteed at this point!)
When I left high school I got married and started a family, and over time I realized that I wanted a career in beauty and hair design.
I attended the Salon Professional Academy of Appleton where I received an excellent cosmetology education, achieved high honors and competed in a Total Look contest. I loved that we were always given the opportunity to explore new ideas.
I get the same level of creative expression at Studio 212. Since starting my dream job here, I have learned so much from the amazing staff and from continuing education. I have attended several classes in Milwaukee to perfect my skills and bring my guests the latest trends.
I am honored to be part of Studio 212's talented family. I am especially excited to have you as a guest in my chair.